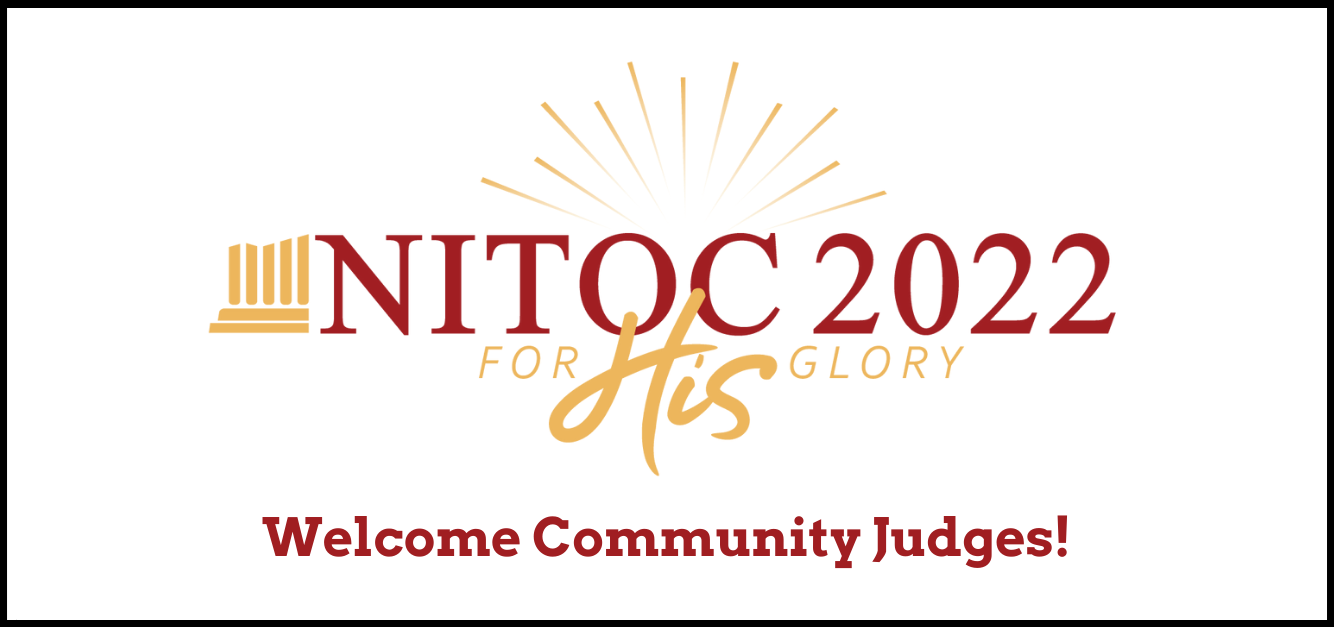 May 23–28, 2022
Yes, you are qualified! No experience necessary!
---
How You Can Help
We are so pleased you are interested in judging our students at NITOC 2022 at Dallas Baptist University. Judges are a vital part of our speech and debate tournaments, and we can't thank you enough for volunteering!
The students benefit from your written evaluation of their performances. It is a significant part of their learning experience and growth, and your investment is greatly appreciated!
---
What We Need From You
You will need 2.5 to 3-hours for Judge Orientation, judging a round, and completing ballots. The following is the maximum time you will be needed per round:
Parli Debate Round: 2.5 hours
TP/LD Debate Round: 3 hours
Speech Round: 3 hours
Light refreshments will be served, including coffee, tea, and assorted small bites.
---
Schedule
Please click on Schedule for the full tournament schedule. When you register, you will be able to select event times that fit your schedule.
For all rounds, please arrive 45 minutes prior to the round start time to receive Judge Orientation.
When you are ready to register, click on Judge Registration. We will also send you a confirmation email as well as a reminder email.
Help us get the word out! Tell your friends and family!
If for some reason you are unable to fulfill your commitment, email nitoc@stoausa.org to cancel your registration.
---
Location
Dallas Baptist University
3000 Mountain Creek Parkway
Dallas, Texas 75211
Google Maps
Please park in Lot 4 located right outside Pilgrim Chapel, and follow the signs directing you to Judge Check-In located in the lobby of Pilgrim Chapel.
---
Judge Orientation
You will receive Judge Orientation when you arrive for your rounds. If you would like to learn more now, click on the links below.
Parliamentary Debate Orientation
Team Policy Debate Orientation
Lincoln Douglas Debate Orientation
---
Questions? Please email us at nitoc@stoausa.org.